Add Some Air Pressure to Your Shop - Air Compressor Sales and Service Throughout Michigan
---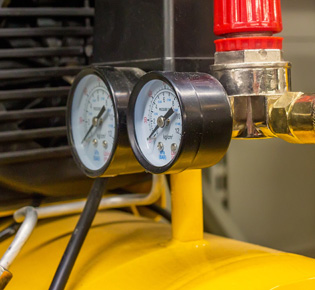 Industrial air compressors add reliable efficiency and convenience to your Service shop, Body shop, Machine shop, or home garage, easily allowing you to add air when you need it.
Air compressors are an integral part of an auto repair shop.
They help you and your team of technicians quickly perform their daily duties efficiently, run machines, and much more. Ensuring that your air compressor system works efficiently is critical, as you would experience extensive downtime should yours fail. The team at Dows Equipment has been both selling and servicing air compressor systems throughout Michigan for nearly 60 years and can pair your shop with the best system for your unique operation.
We service the following compressed air systems:
Reciprocating Air Compressors
Rotary® Screw Air Compressors
Refrigerated Air Dryers
System Design
System Evaluation
Air Piping and Distribution Solutions
When your business needs to choose an air compressor repair company to rely on, Dows Equipment is your best bet.
While we service all of Michigan, we get to know each of our customers individually and use our wealth of industry experience to match your business with the ideal commercial compressed air systems. Depending on the volume of customers you serve and the types of vehicles they have, we can recommend an air compressor (or more than one) with the ideal rated capacity to match your needs. Each of our air compressors is premium quality and are backed with the Dows Equipment name, meaning that if your equipment stops working, we quickly get to the bottom of it. Our technicians and resources have worked with every make and model of air compressor. Every second your air compressor isn't working costs your business money, and we offer 24/7 emergency service to ensure that this doesn't increase your downtime. To prevent these unplanned breakdowns, our service department offers regular air compressor maintenance and keep your equipment up and running job after job.
View Product Brochures to Learn More About the Air Compressors We Offer
FS Curtis HSI Turbo Dryer
FS Curtis CT Series
FS Curtis ML Series
FS Curtis NX Series 4-15kW
FS Curtis NX Series 18-37kW
MACAIR US Series Dryers
Prevost Perfect Shop 1-2-3
Prevost The Perfect Shop Products
Saylor Beall Dryers
Saylor Beall Two-Stage Air Compressors
Saylor Beall Rotary Screw Air Compressors
---
There are many options to choose from when purchasing a new air compressor – let us help you make the best choice that fits your needs! Contact us today to request service or a new air compressor.